Jackson Hole Activities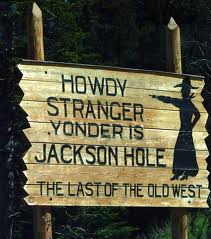 Posts from Massage Professionals of Jackson Hole now include Jackson Hole Activities. Occasionally moving away from typical massage-based blog posts, I am continuing with a Jackson Hole Activities theme. And this week, it's one of the favorite Jackson Hole Activities. But don't let that stop you – visitors to Jackson Hole can have a hoot with this one too. Yes, visitors to Jackson Hole can become a 'Howdy-for-A-Day' and volunteer with local business people (members of the Jackson Hole Chamber of Commerce) for a day of welcoming people to 'The Hole'.
The Howdy Pardner Ambassador Club hosts the Airport Welcome program on weekends during ski season at the Jackson Hole Airport. It's one of the most popular Jackson Hole Activities. Look for the cowboy hats and stop by to say, "Howdy!" The volunteers will share orange juice and mimosas with arriving visitors. They will also answer questions about Jackson Hole. 
The Howdy Pardners Ambassador Club, founded in 1977, is the hospitality arm of the Jackson Hole Chamber of Commerce. Dressed like the cowboys and cowgirls who settled this valley in the early 1900's, the Howdy Pardners roll out the red carpet at the Jackson Hole Airport. They greet visitors with mimosas, orange juice and hatpins. And that's just one of the many Jackson Hole Activities.
But that's not all they do: The Howdy Pardners Ambassador Club spreads good will and community spirit within the Jackson Hole area. Howdy Pardner volunteers are folks working in our area that donate their time to perform various activities, such as:
Meet and greet arriving visitors at the Jackson Hole Airport each winter with welcoming free "mimosas" for adults and orange juice for the kids. 

Sponsor the much anticipated "Jackson Hole 4th of July Parade".

Host the Elk Fest Chili Cook-Off in early May.

Sponsor "Pinky Painting" in the Park for children at the annual "The Taste of the Tetons" during the Fall Arts Festival.

Hhelp showcase new businesses in Jackson by performing ribbon cutting ceremonies and participating in business community mixers. 

Howdy Pardners are easily recognized by their signature uniforms of jeans, red shirts or khaki shirts with the "Howdy Pardners" logo on the arm. They also wear a vest and cowboy hats.
Be well,
Hamish and Rochelle.